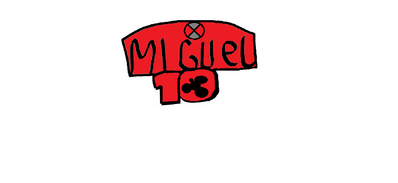 Miguel
10
is an animated series created by The Mixer.
This series was followed-up by five sequel series called Miguel 10: Alien Evolution, Miguel 10: Ultimate Evolution, Miguel 10: Omnievolution, Miguel 10000, and Miguel 10: Unleashed Evolution. There might be a series of the new Miguel 10: New Born.
Ten-year-old Miguel Menhem, his ten-year-old paternal first-cousin Gaelle, and their paternal Grandpa Farid start their summer camping trip. Miguel goes Walking into the woods to fetch for some wood, then he finds an alien pod on the ground. When he examines it, he finds a mysterious, watch-like device, called the Omnimatrix. The device attaches permanently to his wrist and gives him the ability to transform into a numerous variety of alien life-forms, each with their own unique powers and abilities. Miguel realizes that he has great responsibility to help and save others with these new abilities at his disposal. Along with Gaelle and Farid, Miguel embarks on an adventure to fight evil, both extraterrestrial and earthly. Miguel has faced lots of villains including villains fighting together in a team or a partner once Jeff 11 and Kevin fought Miguel.
Characters
Edit
Main CharactersEdit
Miguel Menhem
Gaelle Khalil
Farid Menhem
Supporting CharactersEdit
Tina Tetramand
Leil (Nightgirl)
SMart
Goo
Lt. Mark
Vilgirl
Nea Green
Green Green
Miguel 10'000
Ben Grand Smith
Plumbers
Vulkanus
Omnitrix AliensEdit
OriginalsEdit
Eight Arms
Upgrade v2.5 (Malware 3)
Zs'skayr
AdditionalsEdit
Future AliensEdit
Upchuck
Shocksquatch
ZERO
Future Aliens MentionedEdit
CombinationsEdit
Jilgax
Animal Doctor
Fivefive
Jeff 11
Jojo
Coco the clown
Acid breather
Medusa
Hammerhead
Master magician
Lordoch
Infinite Knights
Bugman
Caster
Zs'Mare
Grizzly Bear
Egyptian God
Dr. Feedba K
Hypno
Driscoll II
Ad blocker interference detected!
Wikia is a free-to-use site that makes money from advertising. We have a modified experience for viewers using ad blockers

Wikia is not accessible if you've made further modifications. Remove the custom ad blocker rule(s) and the page will load as expected.